<!TD colspan="5" height=100 width="100%" align="center"background="1backind.jpg" >


<!ADDED>

CLICK HERE TO READ SATYANARAYAN KATHA
CLICK HERE TO SEE ASHTAVINAYAK
CLICK HERE TO READ ATHARVASHIRSH

Right decisions.

"Sir, What is the secrete of your success?"
a reporter asked a bank president.
"Two words"
"And, Sir,what are they?"
"Right decisions."
"And how do you make right decisions?"
"One word."
"And,sir, What is that?"
"Experience."
"And how do you get Experience?"
"Two words"
"And, Sir,what are they?"
"Wrong decisions"

When you have friends like this, who needs enemies!
Sent by Aarti Gupte, Philadelphia, PA
---
This is my banner!

This is my banner!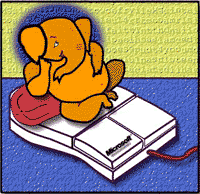 MUSHUKVAHANA
Upgraded 'Vahana for the New Age'
---
<!ADDED FOR JULY> <!@@@@@@@@@@@@@@@@@@@@@@@@@@@@@@@@@@@@@@@@@@@@@@@@@@@@@@@@@@@@@@@@@@@@@@@@@@@@@>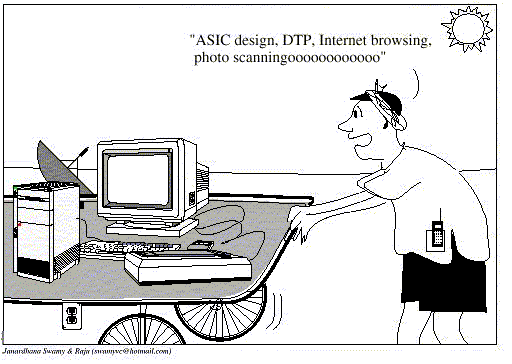 Five years later in India
---
<!END OF ADDED FOR JULY> <!FONT SIZE="4" color="blue" FONT FACE="arial"> <!ADDED>
Facts about India




ONLY IN INDIA!

1.Albert Einstein said: We owe a lot to the Indians, who taught us how to count, without which no worth while scientific discovery could have been made.
2.Mark Twain said:India is, the cradle of the human race, the birthplace of human speech, the mother of history, the grandmother of legend, and the great grandmother of tradition. Our most valuable and most structive materials in the history of man are treasured up in India only.
3.French scholar Romain Rolland said: If there is one place on the face of earth where all the dreams of living men have found a home from the very earliest days when man began the dream of existence, it is India.
4.Hu Shih, former Ambassador of China to USA said: India conquered and dominated China culturally for 20 centuries without ever having to send a single soldier across her border.
Following FACTS ABOUT INDIA were recently published in German magazine.
1.India never invaded any country in her last 10000 years of history.
2.India invented the Number System. Zero was invented by Aryabhatta.
3.The World's first university was established in Takshila in 700BC. More than 10,500 students from all over the world studies more than 60 subjects.
4.The University of Nalanda built in the 4th century BC was one of the greatest achievements of ancient India in the field of education.
5.Sanskrit is the mother of all the European languages.
6.Sanskrit is the most suitable language for computer software - a report in Forbes magazine, July 1987.
7.Ayurveda is the earliest school of medicine known to humans.Charaka, the father of medicine consolidated Ayurveda 2500 years ago.
---
<!P align=CENTER> <!FONT size="4" color="blue" font face="Arial"><!BLINK><!IMG border=0 src="new.gif"><!/BLINK><!/FONT> What Causes Arthritis?

A man, who smelled like a distillery, flopped down on a subway seat next to a priest. The man's tie was stained, his face was plastered with red lipstick, and a half-empty bottle of gin was sticking out of his torn coat pocket. He opened his newspaper and began reading.

After a few minutes the disheveled man turned to the priest and said, "Say, Father, what causes arthritis?" "Mister, it's caused by loose living, being with cheap wicked women, too much alcohol, and a contempt for your fellow man." "Well, I'll be damned," the drunk muttered, returning to his paper.

The priest, thinking about what he had said, nudged the man and apologized. "I'm very sorry, I didn't mean to come on so strong. How long have you had arthritis?" "I don't have arthritis, Father. I was just reading that the Pope has arthritis."
---
Senile

An 80 year old couple were having problems remembering things, so they decided to go to their doctor to get checked out to make sure nothing was wrong with them. When they arrived at the doctors, they explained to the doctor about the problems they were having with their memory. After checking the couple out, the doctor told them that they were physically okay but might want to start writing things down and make notes to help them remember things.

The couple thanked the doctor and left. Later that night while watching TV, the man got up from his chair and his wife asked, "Where are you going?" He replied, "To the kitchen." She asked, "Will you get me a bowl of ice cream?"

He replied, "Sure." She then asked him, "Don't you think you should write it down so you can remember it?" He said, "No, I can remember that."She then said, "Well, I would also like some strawberries on top. You had better write that down because I know you'll forget that." He said, I can remember that, you want a bowl of ice cream with strawberries. " She replied, "Well I also would like whipped cream on top. I know you will forget that so you better write it down."

With irritation in his voice, he said, "I don't need to write that down! I can remember that." He then fumes into the kitchen. After about 20 minutes he returned from the kitchen and handed her a plate of bacon and eggs. She stared at the plate for a moment and said angrily: "I TOLD you to write it down! You forgot my toast!"



---

Boss

My boss was complaining in our staff meeting the other day that he wasn't getting any respect. Later that morning he went to a local sign shop and bought a small sign that read, "I'm the Boss". He then taped it to his office door. Later that day when he returned from lunch, he found that someone had taped a note to the sign that said. "Your wife called, she wants her sign back!"

---

<!P align=Justify><!IMG border=0 src="incognito.gif" ><!/P>

<!IMG border=0 src="lady.gif"height="98" width="133" VSPACE=0 HSPACE=0 align=right valign=center> Two priests were going to Hawaii on vacation and decided that they would make this a real vacation by not wearing anything that would identify them as clergy.

As soon as the plane landed, they headed for a store and bought some really outrageous shorts, shirts, sandals, sunglasses, and etc. The next morning, they went to the beach, dressed in their "tourist" garb and were sitting on beach chairs, enjoying a drink, the sunshine and the scenery when a "drop dead gorgeous" blonde in a tiny bikini came walking straight towards them. They couldn't help but stare and when she passed them, smiled and said, "Good morning Father," "Good morning Father," <!IMG border=0 src="lady.gif"height="98" width="133" VSPACE=0 HSPACE=0 align=right valign=center> nodding and addressing each of them individually, then passed on by.

They were both stunned. How in the world did she recognize them as priests? The next day they went back to the store, bought even more outrageous outfits -- these were so loud, you could hear them before you even saw them -- and again settled on the beach in their chairs to enjoy the sunshine, etc.

One of the priests couldn't stand it and said, "Just a minute young lady. Yes, we are priests, and proud of it, but I have to know, how in the world did YOU know?""Oh Father, don't you recognize me? I'm Sister Angela!" <!P align=right><!IMG border=0 src="bar009.gif" ><!IMG border=0 src="lady.gif" >

GURU DUTT STARRING IN "SOFTWARE KE PHOOL"
yeh document, yeh meetings, yeh features ki duniya,
yeh insaan ke dushman, cursors ki duniya
yeh deadlines ke bhooke, management ki duniya;
yeh Product agar ban bhi jaaye to kya hai?
yahaan ek khilona hai programmer ki hasti
ye basti hai murda bug-fixers ki basti
yahaan par to raises hai, inflation se sasti
yeh Review agar ho bhi jaaye to kya hai?
har ek keyboard ghayal, har ek login pyaasi
excel mein uljhan, winword mein udaasi
yeh office hai ya salame microsoft ki
yeh Release agar ho bhi jaaye to kya hai?
jalaa do ise, phoonk daalo yeh monitor
mere saamne se hataa daalo yeh modem
tumhaara hai tumhi sambhaalo yeh computer
yeh Product agar chal bhi jaaye to kya hai?


---

"Right decisions." Sent by: Magan Patel
<!IMG border=0 src="new_1.gif" > "Five years later..." Sent by: Deepali Kulkarni
<!IMG border=0 src="new_1.gif" > "MUSHUKVAHANA" Sent by: Deepali Kulkarni
<!IMG border=0 src="new_1.gif" > "Facts about India "Sent by: Amrita Panda
"What Causes Arthritis?": Sent by Magan Patel
"Incognito" Sent by: Mohan Bhoumik
"SOFTWARE KE PHOOL" Sent by: Rajiv Donde

<!HR noshade size="30" width="30"> CLICK HERE TO READ SATYANARAYAN KATHA


CLICK HERE TO SEE ASHTAVINAYAK
CLICK HERE TO READ ATHARVASHIRSH
CLICK HERE FOR MAIN PAGE


---